Posted: 8th October 2012 by Angus Gordon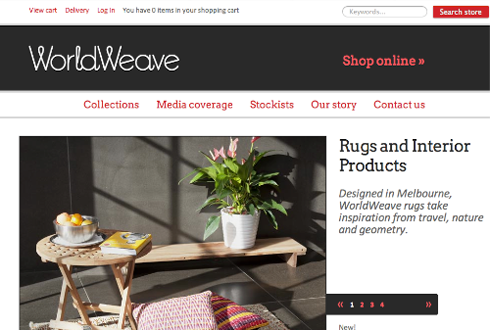 We're so happy to announce that at last Saturday's Australian Web Awards, Weave Web took home the award for eCommerce! With 12 of 13 categories being won by WA firms, we were the only firm from Victoria (or, for that matter, anywhere east of the Nullarbor) to win an award.
We won the award for our work on the website for WorldWeave, a Melbourne designer of unique rugs and other textiles, owned by Melbourne design identity Piero Gesualdi, so congratulations go to Piero and his team too. (The similarity in names between Weave Web and WorldWeave is a happy coincidence!)
Weave Web were also one of five finalists in the category of Best Overall Accessibility, for websites that make a special effort to cater to people with disabilities. We were nominated in this category for our own website.
According to Bret Treasure, Chair of the Australian Web Industry Association, finalists in the Australian Web Awards are "the elite of our industry….They are leading in web standards, design and user experience". So you could say we're more than a little proud to be in that company.
It's particularly good to get an award for eCommerce – a highly competitive space, and one that's growing exponentially. We're also thrilled to be one of finalists in the Best Accessibility category. Making the web accessible to people with disabilities is very important to us, and it's particularly good to be nominated for our own site.
So we hope you'll excuse us blowing our own trumpet for a little bit! We're pretty excited!
---